---
Before 1981 - Brief Overview
05/17/1935: Born in Mettmann near Düsseldorf as third of 6 boys
1953: A-levels in Krefeld, followed by studies in medicine, Protestant theology and physics in Tübingen.
1957: Master of Theology in Erlangen, marriage to Sigrid Oldenburg, who gives birth to 4 healthy children, 2 boys, 2 girls, in the following years.
1959: Son Dirk is born on 11.03. He passes his medical state examination in Marburg and then becomes an assistant doctor in the Gießen Women's and Polyclinic and in Tübingen in the Surgery, Neurosurgery, Psychiatric, Medical and Neurological Clinic.
1961: At the age of 26 he received his licence to practise medicine.
1963: He is awarded the degree of Doctor of Medicine at the University of Tübingen.
1972: Specialist in internal medicine.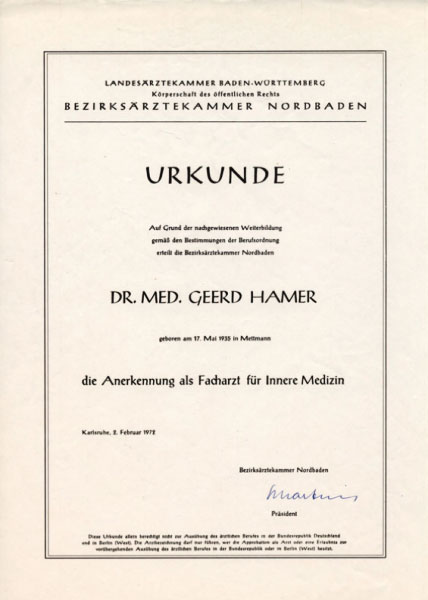 He draws attention to himself with several patents: a massage bed that adapts to the shape of the body, a device for trans-cutaneous serum diagnostics, a special bone saw and the Hamer scalpel that is 20 times as sharp as a razor blade.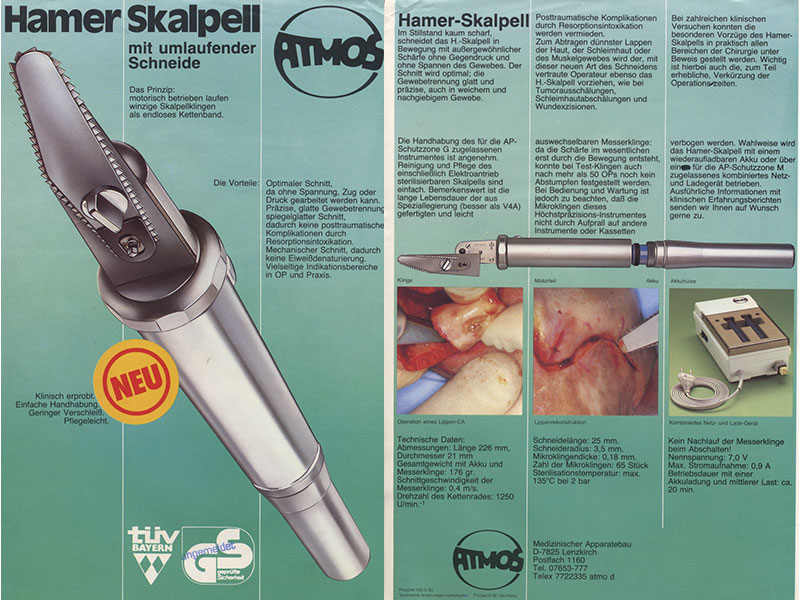 1976: Dr. Hamer moves to Rome with his family, a dream come true: Dr. Hamer and his wife wanted to open a practice for poor people in the slums of Naples to treat sick people free of charge. For the 20th "engagement day" he reminded his Sigrid of their time together in the love song "Mein Studentenmädchen" ("My student girl"), which he had composed himself.
08/18/1978: In the morning at 3:00 o'clock Dirk Hamer, son of Ryke Geerd Hamer, gets shot or fatally wounded in his sleep by the Italian Crown Prince V. E. of Savoy. The agony lasted almost four months.
12/07/1978: Dirk dies in the arms of his father in the Surgical University Hospital Heidelberg. Dr. Hamer: "The darkest day in my life. ... As I know today, I suffered a loss conflict with testicular cancer back then".
1979: Dr. Hamer lies down seriously ill after 2 operations. According to conventional medicine, there is less than 1% chance of survival after peritoneal TB. At this time he receives a visit from Mr. Pütz Siedel (editor-in-chief Bunte) on behalf of the Savoy family to obtain Dr. Hamer's waiver of his joint plaintiff status. Otherwise he and his family are threatened with being expelled from Rome, his reputation completely destroyed, financially ruined and if necessary he is killed. Dr Hamers refuses.
Break-in into the apartment of the Hamer family in Weiterstadt: almost all private documents were robbed. It was obvious that incriminating material was to be found here with which the Hamer family could be blackmailed. The burglars had a business card of the lawyer Gaub, German lawyer of the family of the Prince of Savoy and close friend of Franz Josef Strauß.
Dr. Hamer's patents are being blocked..
The family is brutally evicted from their apartment in Rome by police.
***
Two years after Dirk's decease

Schwarzwald, December 7th, 1980, 5pm
Dirk – my son
On this day, two years ago, I experienced the darkest day of my life, the darkest hour, even! My beloved Dirk passed away in my arms. Nothing before and after this day, was as horrible and devastating as this hour. I thought this sensation of helpless ness, of loneliness, relentless sadness, would just disapear with the time. But it is becoming stronger. I can no longer be who I was.
My poor son, what you have gone through, what have you suffered without ever complaining. I would have given everything to die in your place. Every night you die again in my arms, 730 nights you have died with me since then, and every time I did not want to let you go from my arms. And every time the terrible doom drew you away. Every time again I stood helplessly at the end and cried like two years ago, so uninhibited and stunned as then, between all the seriously ill patients and the jaded, crude and merciless doctors and nurses, who only allowed me to see you when you were about to die.
You wonderful boy, you died like a king, proud, tall and yet so dear, despite all the agonies, despite all the tubes in all the veins, arteries, despite the intubation tube¹, despitethe terrible decubitus². You only shook your head at the perficy and evilness of your torturers:
"Papa (father), they're evil, very evil."
In the last few days you only spoke with your eyes, but I understood every word you said. Did you also understand everything I said to you at the end, that Daddy and Mummy love you very much and that we will always stay together and do everything together? And that you must be very strong now and have a long sleep? You nodded, and I am sure you understood everything, despite your death agony.
Only once, when you had already closed your eyes and felt my tears dripping down your face and heard me crying, did you shake your head a little unwillingly. Did you want to tell me:
"Papa (Dad), you shouldn't cry, we'll always stay together!"
I do not feel embarrassed, my boy, in front of anyone. I cry so often when nobody sees me. Don't be angry with me. I know you had never before seen your father crying. But now I am also your apprentice and I am sad-proud of you, with what dignity you have preceded us through the great door of death. But even such pride cannot stop my distress, when you die every night again in my arms, leaving me in despair.
Copyright by Dr. med. Ryke Geerd Hamer

Translated by El Glauner & Leon Antonio Z. Fernández
---
1 – intubation tube - special tube inserted into trache or bronchus
2 – decubitus - lack of bloodcirculation due to chronic and local pressure (bedriddenness)
Austrian Daily Newspapers 1978
Wiener Zeitung, August 19, 1978
Student shot by prince
Prince Victor Emmanuel of Savoy (41 years old), the son of Italy's last king, wounded a 19-year-old German student by shooting him in the harbour of the island of Cavallo, south of Corsica, last Friday. According to police, the nineteen-year-old, who is studying in Rome, was hit in the inguinal region. His (physical) condition was described as serious. Commenting on the incident, the prince said he had thought the student was the thief of his yacht.
Die Presse, August 21, 1978
Italian Royal Son Arrested on Corsica
AJACCIO (ap). The arrest of 41-year-old Prince Victor-Emmanuel of Savoy caused a public stir in Corsica last weekend. The son of the Italian ex-king Umberto, who lives in exile near Lisbon – Prince Victor-Emmanuel normally lives in Switzerland with his wife Maria, a former Austrian ski champion – had seriously injured a 19-year-old German by shooting him with a rifle last Friday.
According to his statement, Victor-Emmanuel of Savoy woke up by a noise on his yacht in front of his holiday home in South Corsica. He claims to have seen the dinghy of his yacht being attached to another ship. The king's son explained to the examining magistrate that he had followed the other yacht in a rowing boat and had taken his rifle with him for protection against terrorists.
One of the alleged boat robbers jumped over to him. During the melee, a shot was fired, hitting 19-year-old student Dirk Geerd Hamer from Marburg an der Lahn in the abdomen.
While the international jet set reacted with dismay to the arrest, Milan's "Corriere della Sera" (news agency) made a ridiculous statement: "Prince Victor starts hunting season a day too early!"
Kurier, August 22, 1978
The prince's victim struggles against death
The 19-year-old student Dirk Geerd Hamer lies on his deathbed after being shot by Prince Victor Emanuel of Savoy. According to reports, the student had been shot by the son of the last Italian king, Umberto II, near the island of Cavallo, which belongs to Corsica, after the two had an argument about a dinghy belonging to Savoy. In a hospital in Marseille, the 19-year-old's leg had to be amputated. He is receiving dialysis and is struggling against death. The main witness has already turned up.
Kurier, August 27, 1978
The prince grabbed a gun
Communication between Italians and Germans also failed. This time it wasn't just cold coffee, but a missing dinghy, but the situation was ordinary: In any case, close to Corsica, the yacht owner Prince Victor Emanuel of Savoy, son of the last Italian King Umberto II, grabbed a gun. He aimed several times at the 19-year-old German holiday guest Dirk Geerd Hamer and shot him down. The young man's leg was amputated in Marseilles hospital. Savoy has been locked up in a solitary cell. What a cell! According to recent reports, he is being pampered with pâtés and selected wines.
Die Presse, August 27, 1978
Prince of Savoy released
The Italian Prince Victor Emanuel of Savoy (41 years old), who had seriously injured a 19-year-old German by shooting him with a rifle in Corsica a week ago, was released on Saturday by the competent examining magistrate in Ajaccio until the beginning of the trial.
The son of the last Italian king had shot Dirk Geerd Hamer, an uninvolved student, while having an argue about a boat in the harbour of the southern Corsican island Cavallo, and injured him so seriously that his right leg had to be amputated in Marseille.