My Life with Germanische Heilkunde until 2017
Translated by Ela Faulkner
In 2003, Dr. Hamer changed the name of his discovery to Germanische Neue Medizin (Germanic New Medicine). There were many reasons for this, which I will not go into here, including the fact that dozens of "New Medicines" emerged between 1981 and 2003.... anyone looking for information could not find an "unadulterated" source.... Moreover, Dr Hamer, who lived in exile, felt more and more drawn to his German roots.... and wanted to point to the sustainable values in which the pagans lived before the adoption of Christianity, in harmony and in tune with nature.... In the meantime, the so-called meta-medicine was "installed", which today is a branch of so-called total biology, etc.... Dr Hamer in his biography: "Meta-medicine is a huge institution which is financially supported by my opponents. Recently, Mr. Fieslinger, who is said to have been an enthusiastic supporter of the New Medicine until now, has created Meta-Thieves."
In 2004, Dr Hamer was again charged, this time by a French court, with "fraud and complicity for the illegal practice of medicine", and again sentenced to imprisonment in his absence. The result was a European Arrest Warrant, and on 9 September 2004 at 10 am, Dr Hamer was arrested outside his home in Spain and taken to France, to Fleury Mérogis prison. His arrest was not for the idiotic, contrived charges, the sole purpose of which was to destroy the reputation of Germanic New Medicine. We went out on the streets again. This time in Tübingen, but there were more of us than 8 years before. The blonde woman turned into a dark-haired Ewa for a few years.
While Dr Hamer was in prison, we wrote letters to each other regularly. This correspondence is invaluable to me. This is partly because Dr Hamer expresses his pleasure over my activities in connection with the dissemination of Germanische Heilkunde in Poland.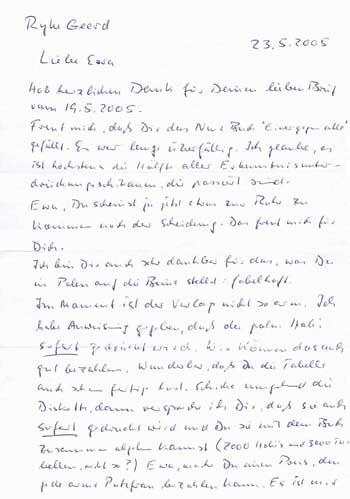 In 2006, Dr Hamer was released from French prison and was fully active again shortly afterwards.
In July Boguslaw and I attended one more very interesting, but last seminar with Doctor Hamer in Coin/Spain. Friends of the Germanische from Italy organised a really enjoyable online conference. We were connected via audio and video to the auditorium and the lecture room in Italy.
And from 8 to 10 September 2006, another Laws of Nature Review was held at the same place, this time under the auspices of our Independent International Court. Dr Hamer called this meeting "Science - Thing". (independent free science tribunal). It was attended by 12 doctors, 14 patients with their family members, biologists, physicists and engineers, teachers and a large number of people with naturopathic training but also "ordinary" people. We were not familiar with the medical history of most of these 14 patients. There were also older cases discussed where the process of "healing" could be observed. All cases were filmed.

Following a presentation and review, I was a member of the Examination Committee that confirmed the conformity of Dr Hamer's discovery.
| | |
| --- | --- |
| Photo - from left to right: Helga Tanja Gergelyfi, Katharina Doris Schammelt, Dr Hamer, Ewa Leimer, Michaela Welte, Erika Pilhar, Dr med Gyde Techow. | |
Until 2006, I gave lectures in various cities in Poland: Dźwirzyno, Kołobrzeg, Bydgoszcz, Gdansk, Opole, Wroclaw, Szczecin, Lublin, Warsaw and finally we ended up in Brzeszcze...
However, our experience has shown that a new approach is needed to disseminate the Germanische Heilkunde...
In 2007, together with Gosia and Jurek (who were already leading the study circle in Brzeszcze at that time), we organised the first study meeting of the in Brzeszcze already in a new form: arranged over several years and stages. This is where today's educational program began.
Our meetings were held in a small place, in the municipal building. We found the hall very convenient for us. First Gosia provided sweet refreshments and coffee, then the participants also brought some food...
In the meantime, Dr Hamer has moved to Norway.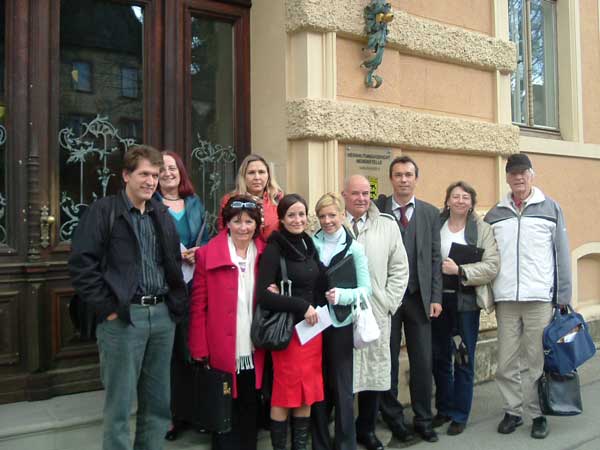 In Germany, in Sigmaringen, another court case took place on 12.03.2008. Dr. Hamer demanded the enforcement of the 1986 court decision, i.e. the University of Tübingen should finally carry out the verification that was imposed on it by the court and which it failed to undertake for years.
The court reversed the first ruling and finally decided that the University of Tübingen was not obliged to conduct the verification after all. We expected such a judgement...
Dr Hamer has not won a single court case since 1981.
In 2009, in response to a criminal complaint filed by Dr Hamer with the Sandefjord police on 26 November 2009, another court hearing took place. This time in Norway, in Sandefjord.
The complaint was submitted against:
Oslo Medical Association
Sandefjord District Court
Sien Appeal Centre
The Oslo Supreme Court
For this hearing, which was to take place from 15 to 17 April 2009, I prepared ( in collaboration with Dr Hamer) material in the form of PowerPoint presentations, in which 5 cases of patients were included. Dr Hamer was to present them in the courtroom. We placed 3 monitors where people could see this presentation while Dr Hamer presented the cases.
One monitor was in front of the jury, the second in front of Dr Hamer and the third was positioned so that the other side could see the presentation.
It was only on the second day of the trial that Dr Hamer was to present the cases using these media. However, the judge unexpectedly interrupted the trial during the presentation of the first case and after a longer pause he ended the trial without further examination of witnesses ...
We suspect that this meticulous documentation was too great a risk.... If all witnesses were allowed to be heard on the basis of this precise documentation, it would be a kind of court-certified verification. The system could not allow this under any circumstances.
In 2016, during my visit to Sandefjord, I had the opportunity to hold the original habilitation in my hands. It was an incredibly moving moment.
LAST ACT
Frankfurt 7. February 2017
a hearing on the reinstatement of the medical licence and the right to practise.
As he could not be present in person at the hearing, each of us received the power of attorney again.
The last time I saw the doctor was in April 2017 in Norway. His face was already showing signs of fatigue from decades of fighting the system without a shred of hope of success.... he fought to the end: "for the good of my patients."

On 2 July 2017, the spirit of Dr Hamer left his body ...
Several decades of struggle for official recognition of his discovery, persecution by his opponents, appropriation of his intellectual property by hungry powers and dishonesty of his alleged "friends" were the real reason for his departure....
Germanische Heilkunde does not only include the medical aspect! If one really understands it, one realises in its complexity, its true meaning... the Germanische has a strong political aspect, as the Germanische is only liveable in a free society....
At the moment we can only do one thing: disseminate the original knowledge of Germanische Heilkunde. It is important that Germanische is preserved in its clear, unadulterated form for future generations.
Anyone can acquire this knowledge!
But the knowledge is a DUTY!
...one must want to attain it....