---
The Discoverer and Master of GERMANISCHE HEILKUNDE®
Dr. med. Ryke Geerd Hamer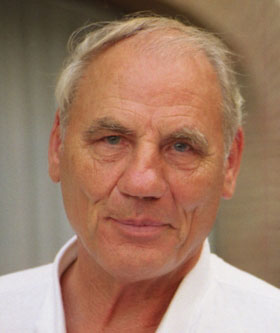 Dr. med. Mag. theol. Ryke Geerd Hamer was born on 17th May 1935 in Mettmann/Düsseldorf and grew up in Friesland (Germany).
He passed his baccalaureate exam at the age of 18 and began his medical, physics and evangelical theology studies at the University of Tübingen, where he also met his future wife, Sigrid Oldenburg, a medical student.
At the age of 20, he passed the preliminary medical examination, got married one year later in Erlangen and took the theological examination there at the age of 22.
The young family welcomed a daughter and soon after a son DIRK, who played a special role in the life of his father. The family later welcomed two more children.
At 24, Dr. Ryke Geerd Hamer passed the state medical examination in Marburg. Two years later, after completing his assistantship, he received his license to practice medicine and his doctorate.
This was followed by a number of years at the university hospitals of Tübingen and Heidelberg.
In 1972, Dr. med. R.G. Hamer, completed his residency in Internal Medicine. He also worked temporary in a joint practice with his wife Dr. Sigrid Hamer.
Alongside he always had a special hobby: inventing patents; f.ex. the atraumatic cutting Hamer scalpel for plastic surgery, which cuts with 20 times the sharpness of a razor blade; a special bone saw, also for plastic surgery; or a massage couch that adjusts automatically to the body contours; as well as a device for transcutaneous serum diagnostics.
In 1976, on the 20th anniversary of the engagement with his wife Sigrid, Dr. Hamer recalled the memories of the first days of their love with a song he composed. This song - "Mein Studentenmädchen" (my student girl) - would become decades later the greatest therapeutic discovery in Germanische Heilkunde.
Until August 1978, nothing special happened in the life of the Hamer family, except for the birth of a second son and a second daughter.
On August 18th , 1978, at 3:00 in the morning at dawn, something terrible happened: A mad and furious Italian prince V.E. of Savoy, shot Dr. Hamer's son Dirk, whilst sleeping in a boat on the island of Cavallo. The son's agony lasted almost 4 months. Day and night the father was beside his son's bed.
On December 7th, 1978, Dirk died in his arms.
This was the reason why he got a testicular cancer, three years later he knew he had suffered a conflict of loss with testicular cancer. Later, Dr. Hamer named this kind of shock the "Dirk Hamer Syndrome" (DHS), a Biological Conflict Shock, that catches you completely unexpected "on the wrong foot".
1 translator's note: Dr. Hamer writes in his originals: Biologischer Konfliktschock, der uns gänzlich unvermutet "auf dem falschen Fuß" trifft/erwischt. ⇒see picture
The Germanische Heilkunde was considered by Dr. Hamer as the legacy of his dead son DIRK.
"I consider the insights regarding the correlations of cancer development, as the legacy of my son DIRK. And that's how it should stay!"
The sudden death of his beloved son Dirk did not only change Dr. Ryke Geerd Hamer's and his family 's lives, it also gave birth to the Greatest Discovery in Human History.
Due to this discovery, which Dr. Hamer initially called "Neue Medizin" (New Medicine) and finally renamed into "Germanische Heilkunde," for the first time in history, the medicine became a strict natural science.
In October 1981, Dr. Hamer submitted his initial findings to the University of Tübingen as a habilitation thesis (post-doctoral thesis):"The DIRK HAMER SYNDROME and the IRON RULE OF CANCER". That year he also presented his findings at Italian television. He still believed that soon the IRON RULE OF CANCER would achieve a breakthrough.
However, Dr. Hamer's work on the connection between the psyche and the development of cancer was rejected without proofing even one single case , as turned out later at court. The result was the grotesque situation that the University of Tübingen refused to review his post-doctoral thesis, in fact officially for formal reasons!
After the death of his son, Dr. Hamer and his family were constantly hassled by lawyers, agents, detectives and other emissaries from the House of Savoy.
In the following years, Dr. Hamer constantly tried to establish a hospital or similar medical facility in order to be able to use his discoveries for the benefit of suffering patients. However, his efforts were blocked by devious actions of his opponents.
In 1985, his wife Sigrid died, hardly getting over the loss of her son and suffering the constant, destructive terror of the Savoy family.
The destructive campaign against Dr. Hamer reached its peak for the first time in 1986, when the Koblenz Medical Association started a procedure with the purpose of withdrawing Dr. Hamer's licence to practice medicine for "not abjuring the Iron Rule of Cancer" and "not converting to orthodox medicine". The plan was successful and Dr. Hamer lost his licence to practice medicine. This judgement, which was proclaimed once again after only one court session in 1990, was additionally subject to a ban on appeal.
Therefore in 1986, Dr. Hamer had no longer the possibility to look after his patients, he was not even allowed to talk to them!
The presiding judge of the regional court of Köln (Cologne) advised him afterwards to look for a retraining (at the age of 57) and to choose a profession that had nothing to do with medicine. The employment ban was to prevent Dr. Hamer from any scientific activity, which failed, because he kept on researching in spite of very difficult conditions.
Without financial resources and no facilities to establisch a university, not to mention the administrative staff, it was very hard for Dr. Hamer to collect scientific material for his researches, sometimes he even had to ask his medical colleagues to lend him computer tomography scans. In view of these difficulties, it is quite understandable that some patient cases could not be investigated as comprehensively as Dr. Hamer thought to be useful and necessary. He could have made all his comprehensive and extensive discoveries much sooner, if he would have been provided with a clinic and a minimum of resources at that time.
In 1986, the court ordered the University of Tübingen the completion of the post-doctoral (habilitation) procedure. In 1994 , the University of Tübingen was instructed by judgement from the Higher Administrative Court in Mannheim to review Dr. Hamer's dissertation (this never happened before in the whole history of the University of Tübingen). After 13 years, since the submission of the habilitation thesis, it was still very unlikely that the University of Tübingen would verify the correctness of the NEUE MEDIZIN (New Medicine) in any case of illness. And so, a decission was pronounced on April 22nd, 1994:
"A review regarding the habilitation procedure is not intended".
Based on his observations of approx. 10,000 patient cases, Dr. Hamer specified his system in 1987 in four Natural Laws. These four biological laws fulfil strictly scientific criteria, which can be easily verified according to these laws of the NEUE MEDIZIN (New Medicine, today Germanische Heilkunde). Different professors, from national and international boards, have verified these regularities on various patient cases and confirmed them in writing.
Due to the permanent threat to enforce Dr. Hamer to a psychiatric clinic, he decided voluntarily in 1989 to be examined by Dr. Catherine Bataille de Longprey, a Brussels university psychiatrist of great integrity, to counteract this. This is her statement:
"...I cannot find any symptoms of paranoia. His explanations are sequently logical, and if he claims a different diagnosis and a different treatment, he justifies them with analyses and embryological solid examinations, all according to the basic concepts of orthodox medicine."
In 1990, Dr. Hamer founded the "Zentrum für Neue Medizin" ("Centre for New Medicine") in Burgau/Austria.
A medical conference was held in Burgau where 20 cases were discussed in the presence of 30 doctors from different countries. The result of this examination was again a 100% confirmation of the veracity of the "Iron Rule of Cancer".
In 1994 a 5th Biological Natural Law joined the four, that had already existed since 1987: the so-called Quintessence.
Dr. Hamer officially announced on television in 1995 that there was no AIDS and no HIV. At the same time, the "Olivia" case was exploited by the media and used as a distraction in order to completely discredit Dr. Hamer in an official way - and to disqualify his statements regarding AIDS and HIV. See Dr. Hamer on the programme "Brisant".
In 1997 the harassment of Dr. Hamer culminated in his arrest and imprisonment in Cologne. Although the indictment was a hoax construed by Dr. Hamer's opponents, he sat in a cell for nine months. However, Dr. Hamer used this time and researched the origin of spontaneous crimes according to the 5 Biological Natural Laws and the rules of the Germanische Heilkunde (before NEUE MEDIZIN).
As the University of Trnava (Slovakia) commited themselves to undertake the habilitation procedure in 1998, Dr. Hamer was released earlier from prison in the same year, but due to the employment ban, he was not allowed to practice his profession. It was expected, that in the end the habilitation thesis would be rejected by a university and thereby the University of Tübingen would be out of the wood.
As expected, the habilitation thesis was refused. But despite that, and for the first time, a university verified Dr. Hamer's Natural Laws. The confirmation of this verification was signed by the university's verification committee.
(A long-time friend of Dr. Hamer reports in her personal biography all about the events regarding the verification and habilitation in Trnava.)
Immediately afterwards, Dr. Hamer fled to Spain on secret way.
From 1998-2004, Dr. Hamer lived in exile in Spain, where he held seminars and continued with his research.
In the year 2000, Dr. Hamer for the first time met his future second wife, Bona García Ortín, who lived and worked with him, serving him trustworthy and devotedly until he died.
It was in 2004 when Dr. Hamer was again arrested and deported to the French justice system. Once again, another illegal trial took place, constructing a case. This time in France. Dr. Hamer was sentenced to 3 years in prison.
In 2006, earlier than expected, he was realeased from the prison Fleury-Mérogis in France. Afterwards he returned back to Spain again, where he kept on researching and holding seminars.
In 2007, Dr. Hamer emigrated to Sandefjord, Norway, as he was no longer safe in Spain due to the European arrest warrant that had come into force on January 1, 2004.
Even in the 10 years of his last exile, Dr. Hamer continued to work tirelessly. A few years before he left us forever, he was allowed - among many other dicoveries - to make a very important one.
The love song that Dr. Hamer wrote for his wife in 1976 relating to the 20th anniversary of their engagement, became the biggest therapeutic sensation in the Germanische Heilkunde. He presented it for the first time in 2013 in the book "Mein Studentenmädchen", "My Student Girl".
Even in his last years, the gifted physician and researcher Dr. Ryke Geerd Hamer experienced a real flood of discoveries, so already in 2014 it became necessary to publish a second edition of "Mein Studentenmädchen" and a revised, second edition in 2015.
On the 2nd July 2017, Dr. Ryke Geerd Hamer passed away in Sandefjord/Norway. He was not alone - his ever faithful Bona was with him until the very last moment of life.
***
Dr. med. Mag. theol. Ryke Geerd Hamer was not only a passionate doctor with numerous talents, but also a kind-hearted person, generous and compassionate. In fact, all people were important to him, but especially important to him were his patients. His home was open to everyone, also to the animals.
Many of us will still remember the persecuted Seebald family (in Austria). Dr. Hamer was the only one helping the Seebald family, by exploting all possibilities he had available. Later, the family who was destroyed by the medicine and the Youth Welfare Office. The austrian state robbed the family all their children.
Dr. Hamer did never refuse to help. Everybody needing help or just an advice, could call him or meet him at any time, until the end of his days. Everyone was welcome to join his seminars, even those who had no financial means.
He never charged anything to his patients, he rather distributed plenty of money to others.
Dr. Hamer was stripped of everything. Instead of being honoured, he was persecuted with calumny, terms of imprisonments, withdrawal of his licence to practice medicine, death threats and murder attempts.
In this society, he could not get his rights, as it was unavoidable and necessary to question it. We look back and see that all this could not destroy his humanity and his warm-heartedness. No, it became his very unique charisma.
His wish for his patients will come true –
The Germanische Heilkunde, the Greatest discovery in human history,
will break through the darkness of ignorance,
like the crocus breaks through the hard snow cover in spring,
fighting its way to the light.




Translated by El Glauner and Leon Antonio Z. Fernández